Review of the Medium Knack Pack
Being a full-time content creator I am constantly running around the city from meetings to shoots to the gym, and then back home to eat. It's downright exhausting sometimes! Picture this: I am rushing down the streets of NYC with a big bulky backpack hanging off one shoulder and looking flustered as ever. I can feel one gym sneaker lodged against my spine and the water bottle on the other side just smacking my arm as I speed walk – so pleasant. I run into the meeting (almost on time) and look like I just ran a marathon with a disheveled-looking pack on my back. So professional right?!
Work Bag & Gym Bag in One!
Disheveled no more! I have finally found a professional-looking (and functional) backpack that holds everything I could ever need and stays looking extremely slim and sleek. Knack Bags has come up with a solution for the 'on-the-go' man. They call it the Knack Pack. Sleek enough for the workroom and functional enough for those gym sessions right after work! No more carrying around a briefcase AND a gym bag. Now all you need is one.
I was honestly amazed at how much space there was in the backpack and how it wouldn't seem to get any bigger as I added more of my belongings to it. The bag is lightweight and perfect for long weekends or a walk across the city. It barely feels like it's on your back!
Expandable Luggage Compartment
The Knack Pack has an expandable luggage compartment, that opens using a zipper. I can pack my gym gear in there when I plan on hitting the gym, and compress it when I don't need it. It fits 1 pair of shoes and my workout clothes easily.
Central Park with My Knack Pack
The backpack even has an option to expand into another compartment. More storage and less of a headache. For my midday stroll through Central Park, I packed some essentials for the park and for the work I had to do after. In the bag pictured there is a water bottle, some snacks, a change of clothes, a camera (with lens), a laptop, a laptop charger, an external charger and a sunglasses case. Can. You. Say. Wow? I was honestly shocked at what fit in that bag and at how lightweight it was compared to my old backpack. Never in a million years could all those things fit into a backpack.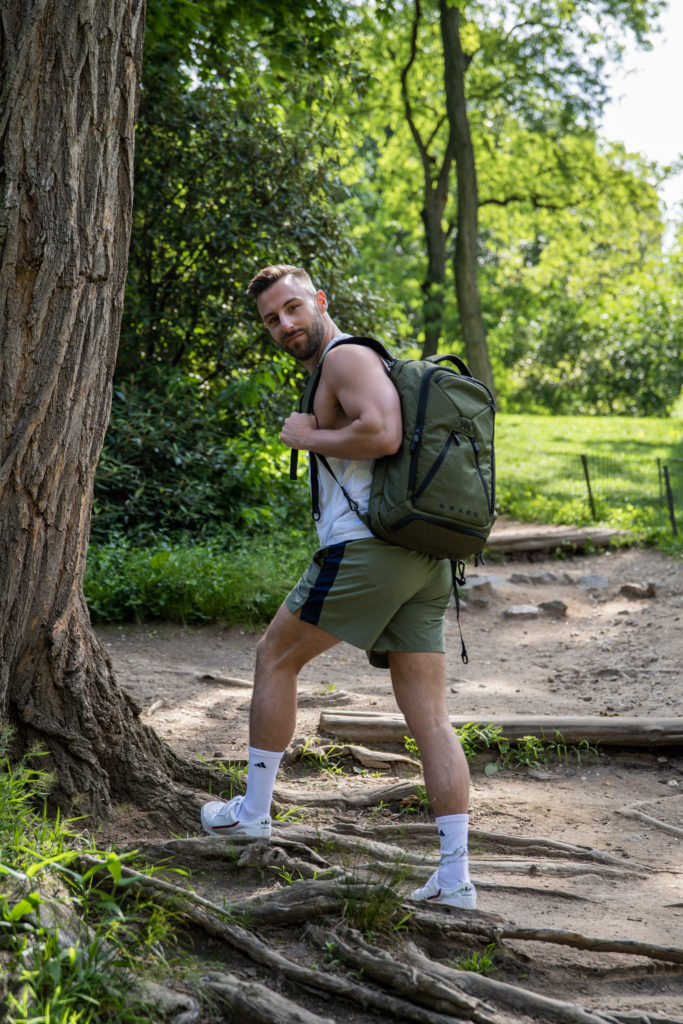 The backpack shown in the photos is the Medium Expandable Knack Pack in Loden Green ($175). The pack has fleece-lined pockets so you can forget that laptop case you always have to carry around. There's a special sleeve for your laptop, and the Medium Knack Pack pits up to a 15" laptop, making it a great laptop backpack. The bag is made of water-resistant fabric perfect for those "I didn't know it was going to rain!" days. The bag also fits under any airplane seat and overhead on all commercial jets. The expandable pocket also can hold up to 2-3 outfits so perfect for that weekend getaway!
Live the #OneBagLife
I'm so glad I found the perfect backpack for me so it's time for you to see for yourself how incredible this bag really is! Check out the Knack Bags website and be sure to read the testimonials to find out what other people think!